Spectrum filament Premium PLA WOOD 1.75mm vzhled dřeva 0.5kg | více barev
- Filament colour, Spectrum: Wood - Wood Natural
Spectrum filament Premium PLA WOOD 1.75mm vzhled dřeva 0.5kg | více barev
- Filament colour, Spectrum: Wood - Wood Natural
---

Spectrum WOOD is a material for 3D printing based on pure PLA mixed with natural wood particles.
✔️ Biodegradable material
✔️ Allows printing with a 0.4mm nozzle.
✔️ Contains natural wood
✔️ Perfect print surface
✔️ Allows sanding and varnishing
✔️ Very good thermal insulation properties
✔️ Typical smell and appearance of particleboard More
Product code: spe_0177-2 Transport and payment options

Spectrum WOOD is a material for 3D printing based on pure PLA mixed with natural wood particles.
✔️ Biodegradable material
✔️ Allows printing with a 0.4mm nozzle.
✔️ Contains natural wood
✔️ Perfect print surface
✔️ Allows sanding and varnishing
✔️ Very good thermal insulation properties
✔️ Typical smell and appearance of particleboard More
Product code: spe_0177-2 Transport and payment options
Spectrum WOOD is a material for 3D printing based on pure PLA mixed with natural wood particles.
Filament WOOD is 100% organic and biodegradable material.
In addition to the visual aspects that mimic the appearance of wood, objects made from this material have a texture reminiscent of particleboard. The material has a unique characteristic: it not only looks like wood, but also looks like real wood thanks to the natural wood content in its composition.
Finished prints can be varnished and mechanically finished. Another characteristic feature is the specific smell of wood, which is eliminated during additive manufacturing using this material.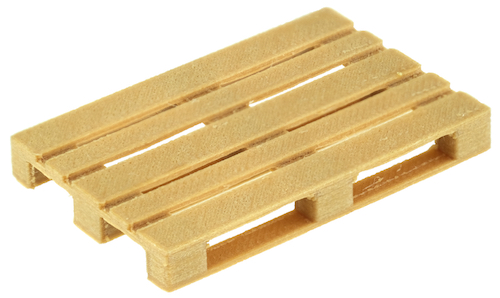 Alternative products (1)
Quick info
Premium
Recommended
The number of stars is 5 of 5
In stock > 10 pcs
Spectrum WOOD is a material for 3D printing based on pure PLA mixed with natural wood particles. ✔️ Biodegradable material ✔️ Allows…